We may receive commissions for affiliate links included in this article. This is a sponsored post. Future Sharks makes no warranties about the statements, facts and/or claims made on this article. These are the opinions of the author. Read our advertising and contributor disclosure here.
---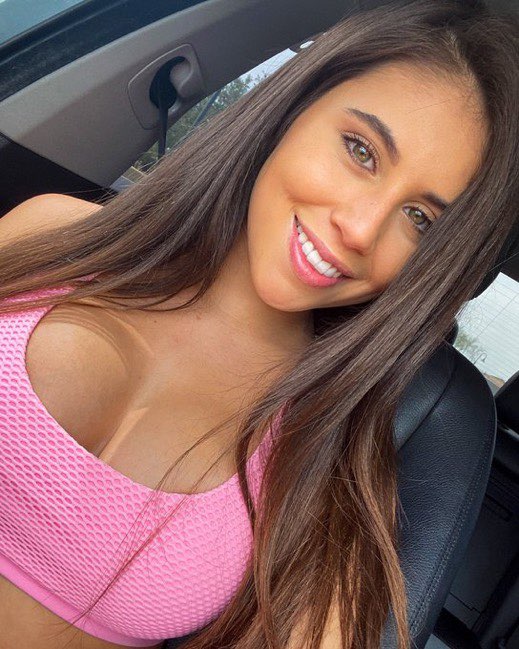 Across the internet, beautiful ladies are making a splash on social media with enticing photos and jaw-dropping videos. As their audience and photography capabilities grow, many of these vixens are finding new and exciting ways to engage their fans with their hobbies, interests, and fun personalities.
The beautiful Violet Summers (@violets.tv) is no exception. The voluptuous 21-year-old hailing from Arizona has found a unique way to break through the competition and bring her bodacious body to a niche market: shoe culture.
We sat down with Violet to learn more about her shoe obsession, and she was kind enough to let us take a look at her collection of incredible sneakers (and more!)
Hey Violet! Tell us a bit about your journey to Instagram fame.
When I first started to grow my following on instagram and trying to find my brand I spent a lot of time looking for inspiration from social media sites such as Pinterest and Instagram to try and figure out the secret recipe to making it big online. I really gravitated toward other "IG models" for inspiration, and what really stood out to me about the most successful entrepreneurs was their focus on highlighting their outfits and aesthetics.
How did you decide to make shoes your "thing"?
As I was looking around the instagram, what really caught my eye and got me excited were the girls who posted their pictures in sneakers. Not just any sneakers, but the high-end, impressive shoes that are hard to find.
Tell us about someone who inspires you online.
When it comes to a gorgeous lady who I really wanted to be like, I'd have to say it is Alexis Ren. Early on I was "stalking" her online, and came across a picture of her in some Jordan 1s, flashing her amazing booty on a skateboard. That was what made me decide "Yeah, I want to be like HER!"
So how did you go from girl-next-door to Sneaker Beauty Queen?
To be honest, I'd never owned a pair of sneakers that was more than $40! Before I bought my first pair of sneakers, I had always been a flip-flops or flats kind of gal. But, seeing those shoes on Alexis Ren, and then watching her pull her pants down at the camera, that was so epic in my mind.
I decided that if I was going to make it big online, then I wanted to take her inspiration and take it a step further. I started hitting up the sneaker stores in town and online, and everytime I went to a new city I'd be at their local sneaker store, trying to find the next best thing!
I merged my lingerie and bikinis with my sneakers and became obsessed with how amazing the pictures turned out. Now I have a whole wall of over 110 pairs of sneakers! I've met a lot of people in the sneaker community, and I really admire their hustler mindset and drive for what they do.
Tell us a bit about your favorite shoes right now.
Right now I'm on the hunt for the Jordan Dior's (I'm a 7 ½ – wink, wink!) Some of my favorite shoes I currently wear a lot are the Off-White Desert Ore Air Max 90's, the Jordan 1
Retro Chicago, the Swarovski 97's, and the Sean Wotherspoon 97's.
Violet Summers is a star on the rise, and you won't want to miss the incredible content that this sneaker queen is sharing everyday. To see more, follow her online and keep up with her latest sneaker finds!
➡ Looking to get featured on Future Sharks?