We may receive commissions for affiliate links included in this article. This is a sponsored post. Future Sharks makes no warranties about the statements, facts and/or claims made on this article. These are the opinions of the author. Read our advertising and contributor disclosure here.
---
Joe Laresca is a Future Shark who is making noise and leaving normal behind!
He is an entrepreneur, producer, and actor based in New York City. He is most notably known for co-founding Serhant Media Group (SMG) with celebrity, Ryan Serhant; the star of Bravo's Emmy-nominated Million Dollar Listing New York and Sell It Like Serhant.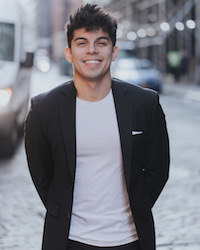 He is also the founder of Noise, a tech-enabled entertainment, media, management, and full-service production company — working with influencers, artists, and brands to blow sh*t up.
In just a short time, NOISE has worked with artists, influencers, and companies such as Extell Development, YesJulz, Gary Vaynerchuk, Carole Radziwill, What So Not, Lulu Simon, Betches, NBC, and others to blow sh*t up.
I had the fortunate opportunity to spend time with Joe and bring you this amazing Future Sharks interview.
Check it out !
____
Where are you from?
Staten Island, New York

What are some of your hobbies:
Fitness, Music, Film, Acting, Producing, Impersonations, Singing Covers, Sublime Concerts, and collecting mugs 😉

What is your favorite quote?
"Real G's move in silence like lasagna." – Lil' Wayne.

What are you working on?
I'm currently running a company called Noise. Noise is a tech-enabled entertainment, media, management, and full-service production company — working with influencers, artists, and brands to blow sh*t up.
How did you come up with this idea?
I was previously running a media company called Snap TV. It was basically MTV on social media. We had 3 shows — Snap TV Cribs, Snap TV Music, and a general show on influencers.
I had been running tech startups for awhile and decided to combined my passion for both entertainment and tech. Through SnapTV, I became obsessed with how you can use social media and influencer marketing to promote music, film, and anything in entertainment really. This is when I decided to pivot SnapTV to NOISE and go all in on what I like to call "The Lil Yachty effect.

What's the "Lil' Yachty effect"?
A couple years ago one of Lil' Yachty's song blew up off a six second video on Vine. This isn't to say that Lil' Yachty got famous because of that video, but it definitely helped kick-start his career at zero cost.  Rapper Lil' Yachty, is a perfect example of how quickly an artist or a film, can blow up in a super cost-efficient way when the right influencers and strategies are in place. Noise lives and breathes this formula.

How is your company different?
We're not just another agency that's going to give a client the blanket "digital marketing strategy." We genuinely build relationships with each and every one of our clients and get to know them as people first, rather than adding a list of services to a monthly retainer.
My vision for Noise has always been built on the fundamental method that it can be the one-stop shop and provide absolutely everything an artist, influencer, celebrity, or filmmaker needs from: social media, to talent management, to production, to public relations.
My goal is to build a machine that helps other individual's dreams come true no matter what industry they're in or how big they are. We specialize in making a name for people, enhancing their digital presence, and creating their own specific noise, which of course is different for each client.

What's your dream with your company?
I want people to think of us as "noise-makers" and go to Noise when they're looking to blow something up. I'd like us to be responsible for working with the most influential people, breaking unknown talent who deserve to be heard, and launching our own products that move the world a little bit forward.

What makes you special?
For one, I've worked on every side of a product from coding, to designing, to marketing, to business development, to partnerships etc. As cliche as it sounds, I think I'm a by-product of my experiences. I look at problems at both ends of the spectrum and always put myself in someone else's shoes whether that's in my professional life or personal life.
I look at all situations objectively but also super empathetically, which I think most people have a hard time doing. These two specific traits help immensely with creating and maintaining relationships, and I think that's a really important skill to have when building any company.

Most of all, I genuinely care. I'm the one who's going to pick up the phone at 2am when a client wants to talk about an idea or something personal. The thing is I actually like doing that. I constantly stress the importance of not only providing the best services for the client but also being there as a friend and companion, 24/7.
You need to live and breathe the person you're working with every single second. When you're working on people's dreams, you have to make them your own and they need to feel that.
How do you creatively advertise?
Advertising needs to feel like its not advertising. Everything from the specific ad being used,  to the way the ad is pushed — be it the influencer or the press used — needs to feel subtle and fun for the targeted audience. Here's a good example of pushing merch without any inclination that we're trying to sell (pictured below):

Additionally, whenever I think of a marketing campaign or anything that's meant to advertise I try to create a story.
A story that says, "Why should I care about this person or thing? For example, if I was trying to break an artist by releasing their first single, I'd first and foremost prioritize placing the artist's story way more than the song itself. I would create content that's addicting surrounding the song.
However, the most important piece of it all is distribution and finding the right influencer to push the artist's story and content to the maximum amount of people possible.
Who are some people in your industry that you look up to?
Answer: Mark Wahlberg, Scooter Braun, Wilmer Valderrama, The Rock, and Jimmy Iovine. They're all noise-makers in their own way and they have done a little bit of everything so incredibly well. They're entrepreneurs. They weren't the best at anything that they do, but they became the best at everything they did.

What were your biggest failures and biggest success? What did you learn from them?
For one, I haven't lived long enough to speak to my biggest failures and successes just yet. I'm sure my biggest success is coming soon, but I'm sure my biggest failure is coming sooner than that. So far, my biggest success would be graduating college first-generation from The College William and Mary. I guess my biggest failure is getting an "F" in Game Theory.

Give the readers the best entrepreneurship advice you have ..
If you have an idea, do it, and do it now. Don't ever overthink. Being an entrepreneur is the best and worst thing you could. You're going to get repeatedly punched in the face, you're going to fail more than you succeed, and most of all it can be incredibly lonely.

Also, don't force ever an idea. Treat it like a relationship. Ideas come and go. If you feel like you can't fix it, start something else.

What is your #1 tip to connect with influential people on a personal level?

If you're looking to connect with influencers, celebrities, or executives that may be a little bit out of reach, here's a quick tip:

First and foremost, you need to immediately show value. I notice a lot of people who send emails, DMs, or texts that say, "Hey, I love what you're doing and would love to pick your brain." This does not show value.

If you truly wanted to and were persistent enough (NOT PUSHY), you could probably get in touch with Kanye, Scooter Braun, or even the President.
You just have to be creative, quick, and show why this person you're reaching out to should give you even a second of their time.
Immediately introduce yourself with credibility and explain how you can provide them value in the first two sentences.
In the third sentence, politely and directly ask them for a minute of their time. Be brief, be creative, and be fast. And if they get back to you, immediately answer with a follow up.
What's something new you've learned in the past month?
Overly communicate your worth. As someone who works with influencers and public figures, you need to constantly communicate what exactly you're doing for this person or company on a day to day/ weekly basis. When it comes to making "noise" for someone, it doesn't happen overnight. Sometimes it could take a day, but other times it can take months or even a year. But you need communicate what you're doing even if there isn't something tangible. If you people out to dry with no updates, then they'll think you're doing nothing.
What do you think you do better than most people?
Getting people hype about an idea or mission and forming a team around that. Additionally, I think I'm pretty good at getting people to believe in me and what I can do for them.
What is the most practical and actionable framework you can share for other Future Sharks to use in their daily life?
If you're trying to build something whether that's a music career or your own company, do something that advances that goal every single day, even if it's small. Too many people get psyched out about not getting to their goal quickly enough, but forget that small steps everyday, add up and mean a lot.

What should an entrepreneur focus on?
Reverse engineering what they want to build.

What holds most entrepreneurs back and how can they get through it?
Either not starting at all or becoming obsessed with one idea…

I think most entrepreneurial people become obsessed with ideas and don't start, and if they do start they keep forcing the idea when it doesn't work as opposed to starting something else.

What are some of the best books you've ever read?
The Alchemist, Zero to One, The Everything Store, Milk & Honey, Tools of Titans.

Where do you see yourself and your product in a couple years?
Working with some of the most creative people in film and music, and being responsible for next generation artists.

What do the words 'Leave Normal Behind' mean to you?
Never settle for normality in any aspect of your life.
Where can the people follow you on social media?
Website: Joelaresca.com
➡ Looking to get featured on Future Sharks?