We may receive commissions for affiliate links included in this article. This is a sponsored post. Future Sharks makes no warranties about the statements, facts and/or claims made on this article. These are the opinions of the author. Read our advertising and contributor disclosure here.
---
Devan Anderson is a digital marketing strategist & Men's Style Personality from Oakland, CA who has combined his creative talent for Photoshop & design to amass a growing 6-figure following.
He is a sought-after consultant most widely known as DevanOnDeck.  
Additionally he is an Art Director, Digital Marketing Coach, and Co-Founder of MyClo Company.
With just one look at Devan's Instagram you can see his incredibly engaging aesthetic.
His posts are insightful and to the point.
He shares simple, yet effective strategies to his audience on the daily.
In this Future Sharks article I interview Devan to learn how he has become living proof of his own digital concepts.
This article is filled with actionable information and I encourage you to follow through with his suggestions.
If you do, you will see an upgrade in your brand through social media.
Devan is an entrepreneur who is leaving normal behind becoming the best version of himself, and creating things that matter.
Here is our interview below …
What are some of your hobbies:
Watching Anime
What is your favorite quote?
"If anyone who looks like you ever made it, you have no excuse" —Unknown
What are you working on?
I'm currently focusing my attention on developing educational materials for my various Youtube series, as well as continuing to build my businesses.

My primary focus is to grow smaller and larger at the same time.
As my collective audience continues to expand in the digital space, I'm creating more opportunities to impact people in real life through speaking, curating panels and hosting events.
How did you come up with this idea?
As a thriving independent artist, freelancer, and small business owner I've encountered (and still encounter) my share of obstacles while building the momentum I have now.
And because much of my life is visible on social media, people reach out seeking guidance daily.
As these inquiries came in, I began to notice that I kept answering the same type of questions over and over again.
Clearly I needed a place for this information to perpetually live, so I can help people solve their problems at scale. Youtube was the obvious solution.
Now I give away much of my best advice for free; everything from men's style hacks, content creation tutorials & digital strategy tips… All the things I wish I had when I started my journey.
It seems like you have a heart for helping the little guy. Does giving away your best digital marketing advice create a conflict of interest with your consulting business?
No, not at all. In fact it's has the opposite effect.
Today's consumer is very informed; with access to the same information as most marketing professionals, many of whom are not their own living-breathing proof of concept.
On the flipside, many social media influencers don't want to share their knowledge; it's a widely known expectation.
My approach immediately breaks that mold.
I openly teach skills and hacks as I learn them; leaving my personal social media out in the open to be analyzed along the way.
I deliver timely information in a very clear and efficient way and in a context that is culturally relevant to my subject matter.
I'm an influencer who's confident with his secrets to success.
For potential clients, my Youtube serves as a gateway.
If I'm giving this much valuable information for free, then how much more would a personalized content marketing strategy benefit them?
Wait, so you're both an influencer and a marketing coach? How does that work?
I started in 2013 as a behind-the-scenes digital content creator for up and coming menswear fashion brands.
That body of work lead to a position at a leading tech company in LA where I learned how compelling content, powered by strategy can drive revenue exponentially if done effectively.
And at the same time working closely with high-level mens fashion labels and influencers— all while continuing to grow my personal brand on Instagram.
So by the time I left, I possessed creative skill, strong storytelling abilities, and the capability to measure this all against alternating business goals— not to mention valuable relationships in both the Tech and Fashion industries.
The next natural step was to become my own guinea pig; I knew this would give me proof of my abilities and an edge over the competition.
In the year it took to increase my 25,000 follower base by over 300% I'd partnered with a variety of brands, both as the face of campaigns and creative direction & strategy behind the veil.
That's quite the origin story.  What was your biggest failure along the way? What did you learn from it?
I've failed lots of times.
The biggest mistake I made though, was avoiding failure.
Until my 20's I'd lived my entire life afraid to fail, and used other excuses to hide that truth from myself.
It was crippling and hindered my growth as both a creative and a person.
The first thing I learned is that failure sucks!
The solution is to make sure you're taking risks for something that you're proud of.
100% conviction will embolden you to use failure as a stepping stone to get you to the next level.
Give the readers the best entrepreneurship advice you have ..
Keep Like-Minds Around You. Iron sharpens iron.

Protect your dream and don't share it with people that will discourage you (even out of love)

When it comes to digital. You're never too old or too young to

learn new skills

, especially if you don't have the budget to outsource labor.

Do what's right for you, not what's popular in the with entrepreneurs on social media.

There's nothing in the world that will replace perseverance; not talent nor intelligence. You have to do the work.
Teach us something about Instagram Marketing. What's the key to an effective personal brand?
First of all, personal brand goes far beyond digital.
It's how you carry yourself day-to-day, how to treat people who can presumably do nothing for you, and what action you take to build community face-to-face.
Also, Instagram may not be the best avenue for, say, a writer who could have a much greater competitive advantage on Twitter.
So choose the platform(s) that best fit your strengths
As far as Instagram goes, here's 3 Rookie Mistakes To Avoid:
1 – Never post landscape content.
it's counterproductive on an app that only functions vertically. To maximize engagement you want to post in the portrait orientation (4×5 ratio) to maximize on-screen real estate. The more time it takes for someone to scroll past your content, the more time it has to grab their attention & that means more likes + comments for you.
2 – Have a focused theme to your page.
It needs to be content that is consistent in color palette, subject matter, and brand voice. This is one of those Instagram secrets that many people miss.
3 – Don't ignore your (potential) audience. Interact with your community by answering every comment and direct message. Then take it a step further and use the hashtag search to leave comments and likes on the pages of people that are interested in your brand or business.
What have you built into your daily routine that gives you your edge?
Daily I set aside time to intake something that inspires me.
My go-to is Anime, but ranges from audiobooks, to interviews of people that I look up to.
This one key helps trigger creative concepts and out-of-the-box approaches to storytelling.
What should an entrepreneur focus on?
It's crucial to learn to listen to your gut and be honest with yourself about your wants, needs and abilities.
I see too much social media flexing in the place of actual work.
I know it's "cool" to say you pulled an all-nighter, but if you're truly a morning person then you're not working at your peak time.
What sense does that make?
What's the next big trend in influencer marketing?
Making predictions is tough, however I believe its been proven that influencer marketing goes above and beyond content, likes and short-term sales.
Moving forward I think that influence will carry more weight than reach.
As more of the industry looks at tastemakers from a quality perspective, its clear true ROI is in long term advocacy as opposed to a one-time partnerships.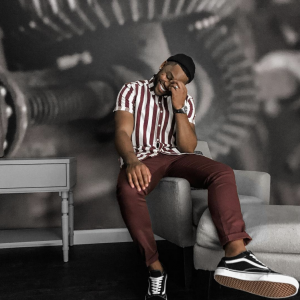 I've personally embraced that people will always value experiences and access over lazy product placement. The more we —the content creators and marketers— focus on true storytelling, the more successful we'll at making impact on consumers.

With that being said, the future of influencer marketing belongs to the Creator Class.
As the space evolves becomes more saturated, it's the individuals with skills that hold high market value that will be on top.
As consumer taste-levels rise and campaigns require a certain level of content creation experience, there will be more of a clear line drawn in the sand.
What does 'Leave Normal Behind' mean to you?
It's mindset that anyone can embrace. It's refusing to be average and blazing your own trail.
What are your social accounts for us to follow ?
For sure! Here are my social media profiles:
______
Devan is a Future Shark who is leaving normal behind.
He has implemented his own concepts in order to prove their legitimate effectiveness.
SHOW and then TELL.
Before you start telling others what to do, do the thing FIRST!
This gives you so much more leverage and confidence because it is tested and proven.
I appreciate how Devan uses the same strategies that he teaches.
This is the best sign of someone who knows what they are talking about.
Be aware of how they utilize their own strategies and if they are seeing success.
If you or anyone you know deserves to be interviewed email me rob@leavenormalbehind.com
➡ Looking to get featured on Future Sharks?