We may receive commissions for affiliate links included in this article. This is a sponsored post. Future Sharks makes no warranties about the statements, facts and/or claims made on this article. These are the opinions of the author. Read our advertising and contributor disclosure here.
---
In this Future Sharks interview I spend time with millennial leader David Zhao, a billionaire in the making.
He is an entrepreneur, investor, and activist originally from Shanghai, China.
He is the co-founder and Managing Partner of NXT Group, an American conglomerate company headquartered in New York City.
Its diversified businesses include NXTFactor (full-service digital agency), NXT Local (Food & Dining Franchises such as Chubby Cattle & Meet Fresh Desserts), NXT Estate (Real Estate Investment Portfolio in New York, Nevada, and Indiana), NXT Auto Club (Car Sharing Community) and NXT Capital (VC/MicroCap PE).
David Zhao independently managed digital marketing services for several clients before founding his own eCommerce platform – MoreViews, Inc. (originally moreviews.net) in 2007.
Specializing in digital development, marketing and management, David Zhao served on the board of various not-for-profits throughout the years.
In 2014, his NYC based digital agency, NXTFactor, created over $15 million in revenue for their clients and partners. In 2018, his food and dining franchises such as Chubby Cattle, Meet Fresh, and Spice World creates over $25MM annual revenue combined.
He is definitely Leaving Normal Behind and I'm appreciative to share an this incredible Future Sharks interview.
We dived deep into his story and extracted very practical information that you can begin to implement immediately in your life and business in order to Leave Normal Behind, become the best version of yourself, and create things that matter.
Here we go …
_________
Where are you from? 
I was born in ShangHai China and now reside in New York City/Philadelphia/Las Vegas
What are some of your hobbies?
I enjoy Boxing, Poker, Travel, Food, andFilm
What is your favorite quote?
The way to get started is to quit talking and begin doing.
What are you working on now?
I run a digital agency, NXTFactor, and had the opportunity to work with clients in different industries.
After working with hundreds of clients' digital presence via SMM/Ad Allocation, I began to see the patterns of successful ventures.
I then decided to invest into my clients' ventures and begun NXT Group.
Not only do I raise capital and provide capital for these ventures, I provide marketing and financial insight for these ventures as well.
What brought you into the business, tech, innovation, and entrepreneurship world?
I started www.moreviews.net (MoreViews Inc.) in 2007 as an eCommerce platform
for people to purchase social media marketing & SEO services.
It then transformed into NXTFactor in 2013 to serve small and medium sized businesses with their digital platforms and online presence.
What sets you apart as an individual?
Optimism & ability to take ideas into minimum viable products.
I have a keen insight to industry based opportunities/problems and the ability to create solutions for those niche problems.
What type of person or company is the best fit for your accelerator?
Our VC fund is interested in investing into ventures or MVPS with existing revenue looking to scale.
These ventures must solve a industry based problem by using innovative tech assistance or financial structures.
What's your dream with your career?
In the short term, I'd like to provide high risk-adjusted return for my investors of my ventures and my fund.
With the proven record of my returns from industry agnostic ventures, I will create socially impactful ventures to solve the bigger problems we face as a global community today.
What is your best tip when it comes to networking and building relationships ?
The best relationship is built through working together even if it's a small project. Start some type of synergy with that individual and see where it takes you, no matter how small.
Show your potential client what you're capable of for free and build that relationship. Learn to give more to build bigger projects and build greater networks.
In your opinion, what is the most important trait in entrepreneurship ?


What is your biggest failure? What did you learn from it?
My biggest failure is the investment into unknown industries and public companies that I am not in control of.
I've learned to invest into opportunistic ventures and improving their operation by increasing revenue, decreasing costs, and improving their internal structure.
Once my team has the control of the operation, we can better assess the company's financial health and its future.
What is the best piece of advice that you have ..
Give before thinking about what you get.
Always offer something of value before expecting or asking for something in return.
The key to this is not focusing on reciprocity.
There is only one thing in life worse than being talked about, and that's not being talked about.
"You have enemies? Good.That means you've stood up for something, sometime in your life." ~ Winston Churchill.
What is your best insight when it comes to marketing strategies?
Different businesses in different industries require different digital marketing strategies.
Different tier products need to be marketed differently as well.
For example, Chubby Cattle can be advertised to the general public but is focused on geo-targeted traffic whereas NXT Auto
What is your strategy to building a business?
Step 1: Find a niche/problem you're trying to solve
Step 2: Is there room for profitability for that solution? Do you have competitors? Competitors could be a good thing as it's a proof of concept.
Step 3: Executing the MVP by creating business plans, product, and marketing solutions.
Step 4: Pivot and fix any kinks that occur during the MVP phase
Step 5: Scale it properly
Having the right partners and team members are essential to the success of your ventures.
They're not only essential in providing the skill sets needed in the business but also motivation for founders to pursue.

What is the best way to return your investors money ?
My fund is set to return dividends on a quarterly basis to allow investors full transparency on the ventures our fund has invested in.
We provide all ventures' financial statements and also inform investors challenges and solutions we've come up with for each investor.
We also leverage strategic investors relationships and resources to help projects the fund has invested in.
What do you think you do better than most people?
Efficiency of Execution & Team Assembling: I am able to create MVPS quicker than most.
Now I'm learning how to scale quicker with multiple projects on hand that's scaling at a level I've never experienced before.
Most people have an idea and don't execute or takes forever to create that product whereas I will assemble a team to execute on that idea quickly, turning that idea into reality at an affordable cost.
Sales: I'm also pretty proficient at finding the right customers for the right products. As the CEO of NXTFactor, I had to convince hundreds of clients to sign up with our firms' services even when I was 18 years old.
This ability allows me to understand customers' wants better and help them and service them better.
What is the most practical and actionable framework you can share for other Future Sharks to use in their daily life?
I like to create a simple (not a complicated task management system or Gnant chart) daily list that breaks down the tasks that have been completed on a daily basis.
This keeps me organized and motivated.
If you have a team working, start thinking in the shoe of each team member/employee and see how you can align their personal goals with the company's goals whether through performance bonus, etc.
What should an entrepreneur focus on?
Simple: focus on solving their daily problems.
This can be raising capital, improving their product, marketing their product, etc.
If you focus on winning each day then everything will fall into place. If you win each day then you will win the week, and if you win each week then you'll win each month, and if you win each month then you'll win the year.
It all starts with executing on what you have to do on a daily basis.
What do you believe is the reason for your current success ?
I took my shots early. I believe in myself. I am not afraid to fail with my MVPS.
Keep in mind I don't have investors invest on projects I'm not confident that will be profitable ventures.
For example, I haven't raised any capital for NXT Auto Club or NXTFactor since the creation of those 2 companies.
I will only raise capital when I see that the venture is already successful and only need that capital to scale, thus de risking my investor's capital.
Where do you see yourself in a couple years?
Here's my vision over the next 2 years:
I'd like to scale NXTFactor's team to be able to service the additional clients we're taking on.
Additionally, I'd like to successfully send quarterly dividends to investors for my ventures in both the restaurant and real estate space.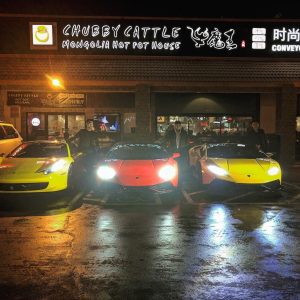 This means I will have to scale the Chubby Cattle and Xiang Tian Xia brand quickly and profitably.
Number wise, Chubby Cattle & Xiang Tian Xia are doing $20MM in annual sales in 2018 with 5 locations opened but aim to create 20+ locations by 2020 with $80MM+ in annual sales.
Once these projects are successful and my investors have been paid off, I will raise a $100MM fund to begin on larger projects with the experience I've learned through these ventures.
What is the vision for NXT ?

NXT Group will continue to serve as an internal VC fund that invest in ventures we manage, providing investors with high risk-adjusted return.
What do the words 'Leave Normal Behind' mean to you?
It means living your life to your fullest and making impact that fulfills me. I aim to continue growing and learning all my life, regardless the size of my ventures. The key is having the right attitude in life.
Where can we follow you on Social Media?  (hyperlinked, example: Facebook):
Here are my social media accounts to follow:
https://www.facebook.com/officialdavidzhao/
https://www.youtube.com/channel/UCrJJAc9DSUu09UvyhWfmwhw/featured
_____
David shared some incredible insight in this Future Sharks interview.
One of my favorite pieces is his approach to building businesses.
His 5 step framework is industry agnostic and can be used as an effective way to build any business.
Focus on your daily tasks and win each day. Do not overcomplicate things.
Take action NOW !
Many entrepreneurs get lost in the thinking and planning and never end up executing in the trenches.
If you have an idea, start now, and quickly create a minimum viable product (MVP).
Once you have your MVP you can begin showing others and getting market feedback.
Use David's 5 step framework to give you guidance.
If you or anyone you know is a Future Shark who is leaving normal behind then email me rob@leavenormalbehind.com to connect.
➡ Looking to get featured on Future Sharks?